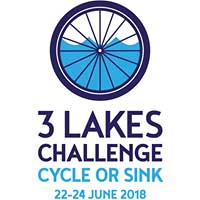 Eleven adventurous friends — and KEEN fundraisers — became the first ever group to cycle between AND across three of Britain's largest lakes in under 48 hours over the weekend of June 22–24.
The group included Tom Pellereau, 2011 winner of BBC One's The Apprentice and TV presenter, Rob Bell.
The challengewas certainly no mean feat as cycling over water is much harder than on land. They cycled across Loch Lomond, (Scotland), Lake Windermere (England) and Lake Bala (Wales) on a bike powered pedalo while riding across Britain from lake to lake. Each person endured a whopping 565km over land & water with very little sleep!
Exhausted but in high spirits, the spectacular scenery and perfect weather conditions propelled the team towards the finish line.  We want to say a huge thank you to our fundraising heroes who are raising money for KEEN London and two other charities. They are very close to reaching their £25k target and you can support them here:  www.cycleorsink.com