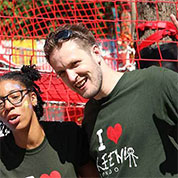 It is with a heavy heart that we say a great big KEEN thank you and goodbye to Will, our South London Co-ordinator who has helped make our South sessions so much fun. Will has been with us for over two years and we wish him the best of luck on his travels.
With the new year we have some new faces so let's meet the new KEEN staff coming to a centre near you!
Andrew Hopper-Davies, South London Coordinator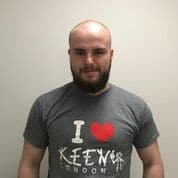 Andrew has been working in sport for almost nine years, mostly in football. He has worked with both children and adults, in a grassroots club, schools and elite settings. He is nearing the end of his BSc Sports Coaching (Hons) degree, which has included studying disability in sport.
Andrew is most excited about leading a team of coaches to deliver sport to children who may not have access to it otherwise.
Fun Fact: Andrew has some experience of stardom, having appeared in the 2010 Robin Hood movie.
Robin Walton, Volunteer Coordinator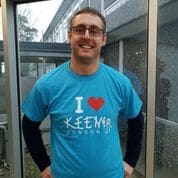 Robin started volunteering at another children's charity 6 years ago and was inspired by the opportunities it created for him. He then took on a role as a Volunteer Coordinator, where he was responsible for recruitment, training and support of volunteers providing activities for adults with disabilities.
Robin is most looking forward to getting to know all our amazing Athletes and Coaches as well as welcoming loads of new volunteers into the world of KEEN London!
Fun Fact: Robin's eyes are different colours, one is green and the other one is brown.
Caroline Goonewardena, Session Leader (South and North)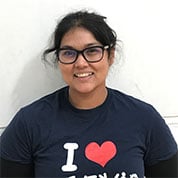 Caroline has a great interest in sports and exercise. At KEEN, she's looking forward to sharing her passion and encouraging kids to get involved regardless of their ability.
She is most looking forward to being able to build on an athlete's confidence, increasing their participation in group activities and seeing them make progress in each session.
Fun Fact: Caroline recently competed in her first strongman competition and is currently in training for her next one!
Jess Feeney-Davies, Session Leader (East)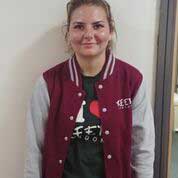 Jess has been doing an apprenticeship with Young Hackney, working with mainstream and disabled young people in sports and exercise. She is enjoying taking on a leadership role and supporting more young people into an active lifestyle.
As well as practising and developing her Makaton skills, Jess is most excited about building relationships with our athletes. She can't wait to work with them to help them learn and grow – and also learn from them herself!
Fun Fact: Jess loves cats but is scared of dogs.