South London springs into action
Third base opens in style
We took a giant leap forward in April with the opening of our third centre at Lilian Bayliss School in Lambeth — and it already feels like home! Sessions are now up and running on Saturday mornings and they include all the KEEN London favourites: what's the time Mr. Wolf?, dodgeball and, of course, the hokey-cokey.
We welcomed 15 new athletes to the first session and already have another 10 families on the waiting list. The sessions will grow quickly as soon as we can attract new coaches, so please spread the word or get in touch with our new Co-ordinator, Ridhi to join the KEEN London family.
Our great thanks go to The Bank of Tokyo-Mitsubishi who raised funds for two years to help us realise our long-held ambition of opening a South London centre.
Easter holiday highlights
More fun at Medina Valley
A group of 16 athletes and 23 coaches travelled by coach and ferry to the Isle of Wight for our annual Spring residential. Unfortunately the weather was more wintry than spring-like and prevented us from taking part in any water sports, but it didn't stop the fun!  In a jam-packed two days, activities included rocket building, campfires, ferries, paper aeroplanes, skittles, memory games, balance acts, Easter egg hunts, orienteering, aerobics, fancy dress and even robotic dinosaurs!
For some of our athletes, this was their first trip away from home but it won't be their last. Our Senior Co-ordinator Nicole says, "Our residential trips continue to be a great way for our athletes to build confidence, learn new skills, make new friends and — of course — have huge amounts of fun!"
… While Hackney welcomes a hero
Our special Easter guest in Hackney was Paralympian Andy Barrow, former captain of the GB wheelchair rugby team. Andy led two holiday sessions which were supported by the Chaucer Foundation, the charitable foundation of City insurance firm Chaucer Syndicates, with many members of staff volunteering on the day.
Andy led the children in a host of fun activities including dodgeball, pass the parcel and even dressing up as scary mummies!
Andy, who is well-known for inspiring people of all ages to reach their full potential through sport, said, "I'm delighted to bring these sessions to KEEN London with the support of the Chaucer Foundation. Supporting projects like this is what companies should be doing in the community and I'm looking forward to more days with the children and volunteers at KEEN".
Run Hackney run!
Half-marathon heroes
Run Hackney is now one of London's most popular half-marathons and we were lucky to have an amazing group of runners taking part to support KEEN London. The race took place on the hottest day of the year so far but that didn't deter our fearless competitors.
We were joined by supporters from our corporate partners at Sarasin & Partners and Tideway.
Meanwhile, our very own Andy Whitby, dressed as the KEEN mascot no less, completed the course with a group of coaches and was cheered to the end by supporting friends and athletes.  In all, the event raised over £5000 for KEEN London, an amount which will go a long way towards improving the lives of children with additional needs across London.
Many, many thanks to everyone who took part — we hope you're now enjoying a nice long rest!
AND DON'T FORGET:
At KEEN London, we couldn't do any of this great work without our volunteers, fund-raisers and sponsors. We are also very interested in talking to companies who can provide services in kind. If you'd like to help with any of our activities, contact info@keenlondon.org or call 07858 899066.
KEEN London is a registered charity, number 1124915. It is also a limited company registered in England (number 6579658), and its registered office is Unit B11, 3 Bradbury Street, London N16 8JN
Dates for your diary
East London:
28 May: No session, half term
16 July: Last session of the Summer term
North London:
29 May: No sessions, half-term
17 July: Last sessions of the Summer term
South London:
4 June: No session, half-term
16 July: Last session of the Summer term
Teen KEEN update
TEEN KEEN is going from strength to strength and now includes athletes from both North and East London with up to 20 athletes bowling each week.
This year, we've been delighted to welcome coaches from our supporter Tideway. Volunteer Lloyd Constable, Internal Communications Manager at Tideway, said: "Bowling with KEEN was a fun and rewarding evening. I got to meet and speak to lots of KEEN athletes who all showed me how much better they are than me at bowling. I'll definitely have to come again to improve my skills and I look forward to getting to know them more."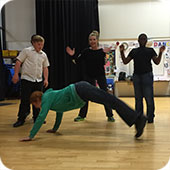 Fundraising news
We're very grateful for some amazing fundraising recently.
Our supporters at Sarasin & Partners have already raised £1300 from a wine tasting evening.
The UK office of US technology company Stratus sold some of their surplus IT equipment, raising £900 for KEEN.
And employees from SimCorp — a provider of investment management software solutions and services for financial institutions — took part in a 10k run in Regents Park, dressed — and why not? — as superheroes. Their heroic efforts have already raised £650 with more still to come.
Many, many thanks to you all.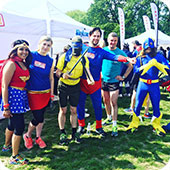 Meet Ridhi, our new South London co-ordinator…
What persuaded you to join KEEN?
I started volunteering for KEEN in early 2015 and very quickly realised how fantastic this organisation is and how everyone is so focused on ensuring a safe and fun environment where children can grow as individuals.
What's been the best part of your new job so far?
Meeting the families and new athletes. We have built great relationships and seen some positive progress. It's always lovely to new friendships being formed.
What are you most looking forward to?
In South London there is a high need for a service like KEEN, and I am really looking forward to seeing how we can make more of a difference.
What do you enjoy doing when you're not at KEEN?
I love to stay active — gym, yoga, running – and spending time with my family and friends. I have 7 nieces and nephews who tend to take up a lot of my spare time!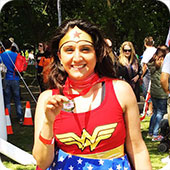 …and Austin, one of our new South London athletes
Clare, Austin's Mum says he is already benefiting from his time at KEEN. She says, "Austin always comes out with a smile on his face! He really enjoys the games — he says it's like a party! He also loves that you feel he's responsible enough to wear the key for the disabled toilet on a lanyard — that's a big thing for him.
"I think it's amazing that Austin gets individual attention in a group environment. This definitely benefits his social skills. I'm so impressed with the service so far. All the coaches are dedicated and friendly and both my boys look forward to Saturday mornings now!"