Super Stubbers!
Another successful Summer residential
This year's Summer residential had a new venue – Stubbers Adventure Centre in Essex – and more laughs, excitement and new experiences than ever before.  North London Co-ordinator, Andy Whitby gave us the lowdown.
"We arrived at Stubbers on Friday evening full of excitement! With our own catering as well as garden to run off steam, we soon settled into Maple Lodge, our accommodation for the weekend. After a big meal we burned off our excitement with a bonfire, marshmallows and camp songs, including KEEN favourite, the Moose Song.
"Saturday morning saw us split into our four teams for the activities: Kingfisher, Eagle, Emu and Nightingale (spelling KEEN!). We all raced about, completing our first four big activities, including: climbing, sailing, orienteering, a team challenge, bell boating, inflatable sofa and – would you believe? – DRIVING!
"By the evening we were all exhausted, after some down time we went for our 'night walk.' We were so tired we were all tucked up before the stars came out, although we were treated to a spectacular sunset from the top of the hill.
"On Sunday all teams completed their three remaining big activities. The serenity of sailing was idyllic, and so many athletes wowed audiences with phenomenal performances on the climbing wall. There was no doubt, though, about the two favourite activities of the weekend: the inflatable sofa and 4×4 jeep driving! 'It's the best day of my life,' said one athlete – and many more agreed.
"It was a joy to observe the bravery and the excitement of the athletes over an action-packed weekend. Of course, an enormous thank you to our volunteer coaches for making the whole weekend possible".
Ahoy, London!
Athletes take to the Thames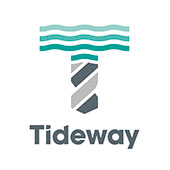 The second highlight of the Summer was a boat trip on the Thames, supported by our good friends at Tideway. Tideway employees raised funds to give a terrific day out to a group of nine athletes, and joined us as coaches on the day. We started with a trip down the river on a Thames Clipper before taking to the air on the Emirates AirLine and finishing up with some time on the beach at Royal Docks.
Tideway volunteer Emily McKenna said: "It was a really enjoyable day and was so rewarding to see the children enjoying the sunshine and having fun. I will definitely help out with more KEEN events in the future."
Fantastic fundraising
Summer fun and sports galore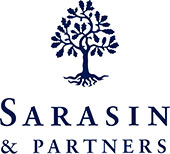 Our great friends at Sarasin & Partners have made a huge difference to our work with some amazing fundraising efforts. Partner Mark Fairbanks Smith completed the 80 mile Hadrian's Wall Challenge, raising £2,792 and another £2,200 was raised at the firm's charity golf day. And their Summer party proved to be an amazing evening all round, raising over £9,300. 
Lucy Walker from Sarasin & Partners told us, "Staff voted to support KEEN in December, after seeing how they transform the lives of young people and their families. We are delighted to have already beaten our 2016 fundraising target, but are not sitting on our laurels – our next event is later this month, in conjunction with the City Giving Day, where we are cycling the 240 miles to Paris, and also hosting a bake sale! We look forward to supporting KEEN in the years to come."
A huge thank you to everyone at Sarasin from the entire KEEN London family.
---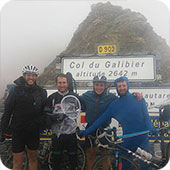 Our Co-ordinators and coaches always go the extra mile when it comes to fundraising and this Summer was no different.
The intrepid Andy Whitby and three friends cycled to the top of seven of the tallest cols in the Alps in just six days and raised £1650 in sponsorship.  Once again, Andy represented KEEN in his favourite outfit – hope it's been washed by now!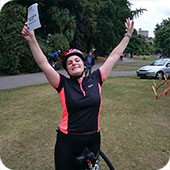 Meanwhile, senior coach Amira cycled 60 km from Richmond to Windsor. By her own admission, this was further than she'd ever cycled in her whole life and you can still support her fundraising page here.
And if all of this has inspired you, why not join or support the KEEN team when they take part in Run Hackney next May? That's plenty of time to get in shape — ask Nicole or Andy for more details.
AND DON'T FORGET:
At KEEN London, we couldn't do any of this great work without our volunteers, fund-raisers and sponsors. We are also very interested in talking to companies who can provide services in kind. If you'd like to help with any of our activities, contact info@keenlondon.org or call 0207 686 3172.
KEEN London is a registered charity, number 1124915. It is also a limited company registered in England (number 6579658), and its registered office is Unit B11, 3 Bradbury Street, London N16 8JN
Dates for your diary
East London:
Saturday 22 October: half term
Saturday 10 December: last day of term
North London:
Sunday 30 October: half term
Sunday 11 December: last day of term
South London:
Saturday 29 October: half term
Saturday 10 December: last day of term
Teen KEEN (bowling):
Wednesday 26 October: half term
Wednesday 14 December: last day of term
What's new this term?
Our Autumn term is always busy and this year is no exception. There will be a special dance session and trip to the City Farm in South London; a Hallowe'en party and panto trip in East London and newly formatted sessions in North London.  Watch this space for reports in the next issue.
Coaches will also have the chance to benefit from a variety of training courses including: session leading; autism awareness; communication training and adapting sports and games for disabled people. Please contact Nicole for more information if you would like to attend.
Meet a cool coach…
Anthony has been volunteering for a year and is also a session leader.
What do you like about coming to KEEN?
I love playing games and having the chance to be silly, and KEEN sessions are bucket loads of fun. It's really rewarding to be able to help children participate in play or games that they would otherwise be unable to take part in. We see our young athletes growing in confidence each week, making friends and developing social skills.
What's the most enjoyable thing you've done so far?
Going on the residential trip to the Isle of Wight was awesome. We sang songs around a campfire and roasted marshmallows, what more could you ask for?
What do you enjoy doing when you're not at KEEN?
I like to write songs and make music. I play in a rock/hip-hop band and have a few other side projects on the go. I enjoy learning to play instruments and trying out new ways of being more creative in my writing.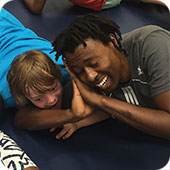 …and an amazing athlete
Hans has been attending KEEN sessions in North London since February. We asked his Mum, Candice about his experience so far
How has Hans found KEEN since he started?
Hans looks forward to going to KEEN sports every week. It has become a routine.
What does Hans enjoy most about coming to KEEN?
He likes basketball and the singing session at the end every week and has also really enjoyed all the activities organised by KEEN.
Has KEEN helped Hans develop as a boy?
Hans has made some friends (all the caring adults and familiar peers) and learned some rules and games.
How did Hans find the Summer Residential to Stubbers?
Hans said he liked all the activities at the residential especially the climbing, the water activities, the walk in the woods, the driving and the camp fire.