What's new across London?
Festive frolics and new beginnings
2016 came to an uplifting end for the KEEN London family, as we celebrated Christmas at all three sites. Now the new term has begun in style so we thought we'd check in with each of our Co-ordinators for an update.
First up is Will, our new Co-ordinator in South London.  Will has been running the sessions since Ridhi left to have her baby in December, and he's already been joined by four new athletes in 2017.
"South finished its second term in festive style with a trip to the Omnibus Theatre in Clapham for a relaxed performance of Otto and The Robin, plus a Christmas party on the final Saturday of term.
"All of our new recruits are settling in well and we have some great treats lined up for this term, including a special capoeira workshop and a trip to the aquarium."
Meanwhile, over in East London, Nicole has been as busy as ever:
"We had a great Autumn term in East London, with lots of special activities including a trip to go bowling and a Halloween party! The highlight was definitely our Christmas trip to see the pantomime at The Hackney Empire. KEEN athletes and coaches were very lucky to be given the opportunity to go backstage and get a closer look at some of the props and even meet cast member, Denzil the dragon.  It was a truly spectacular show and I was so proud of all of the KEEN athletes for behaving wonderfully, and joining in with all the song and dance numbers!
"This term, look out for Easter-themed activities, including craft sessions and party games!"
And finally, North London, where Andy tells us our Sunday sessions have been as busy as ever.
"It was an absolute delight to finish last term with our Christmas Party! Many athletes performed beautifully in KEEN's Got Talent, from keyboard recitals to dance routines. We have a couple of specialist sessions to look forward to this term, including a football session run by UCL volunteers, but most of all it is great to enjoy the regular Sunday sessions we love so much."
Fantastic fundraising
More great support
At KEEN London, we are very fortunate to have corporate partners who support our work with great enthusiasm and commitment.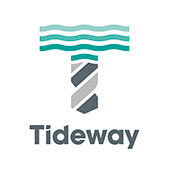 Our great friends and supporters at Tideway, presented Trustee Patrick with a HUGE cheque at their Christmas Fayre. Tideway staff had raised over £4800 through a variety of events and initiatives. Julia Fitzgerald, Chair of Tideway's Charity Committee, said: "We are delighted to continue supporting the hugely important work KEEN London does. As well as continuing to provide volunteer support at KEEN events, our team is delighted to have been able to raise this money for such a worthy cause."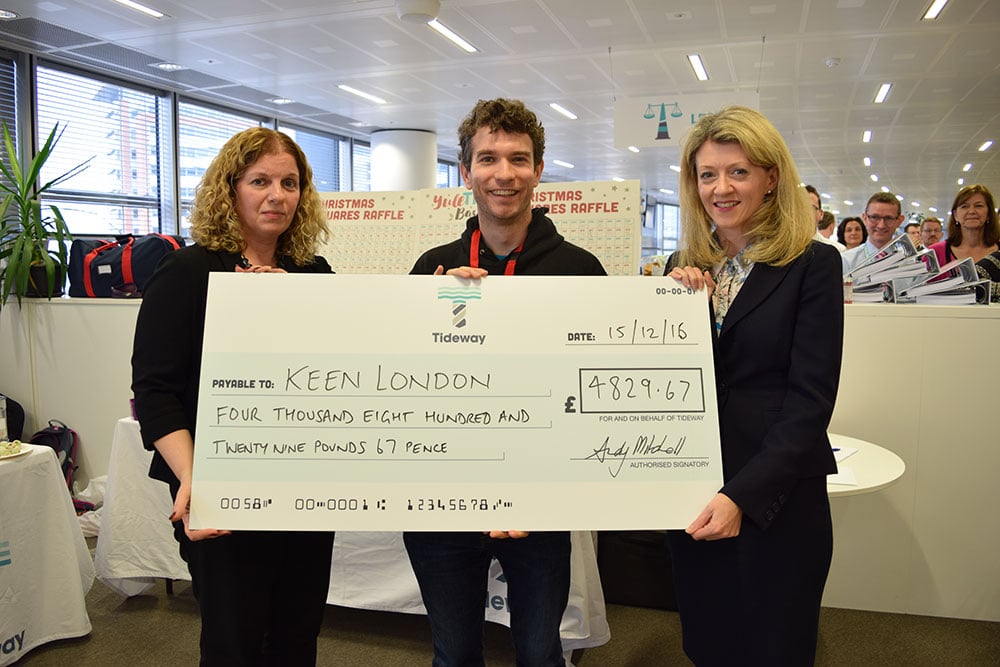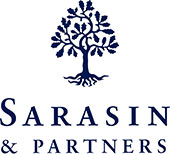 Enormous thanks are also due to Sarasin & Partners. They held a Christmas Jumper Day, which brought their total fundraising efforts for the year to over £20,000.
At the end of the year, we also received generous grants of £5000 from the Artemis Charitable Foundation and £2500 from the Worshipful Company of Pewterers. These awards will go a long way towards ensuring our unique, free service is available to over 115 families with additional needs in London.
AND DON'T FORGET:
At KEEN London, we couldn't do any of this great work without our volunteers, fund-raisers and sponsors. We are also very interested in talking to companies who can provide services in kind. If you'd like to help with any of our activities, contact info@keenlondon.org or call 0207 686 3172.
KEEN London is a registered charity, number 1124915. It is also a limited company registered in England (number 6579658), and its registered office is Unit B11, 3 Bradbury Street, London N16 8JN
Dates for your diary
NO sessions on following dates in February:
South: 11 February
East and North: 18 + 19 February
Bowling: 15 February
Spring term ends:
Week ending 1/2 April
Spring fun ahead
Norfolk-bound for Easter fun
This year, we'll be heading north to the Norfolk coast for our Spring residential. Eighteen athletes from the East and South centres will be travelling to the Kingswood Centre near Cromer for the Easter weekend. For seven athletes, this will be their first KEEN residential. They'll have the chance to enjoy loads of outdoor activities including shelter-building, climbing, caving, ziplining and rock pooling. And the evenings will be jam-packed with sing-a-longs, a night walk and a disco.
Look out for updates in our next newsletter.
A marathon effort
Olivia's 26 miles ahead
If you'd like to support a superhuman effort – and raise funds for KEEN — Coach Olivia Rudgard will be running the London Marathon in April. Olivia is a familiar KEEN face: she's been a coach for over a year and has volunteered in all three centres. This will be her first ever marathon, so why not give her training a boost by sponsoring her here.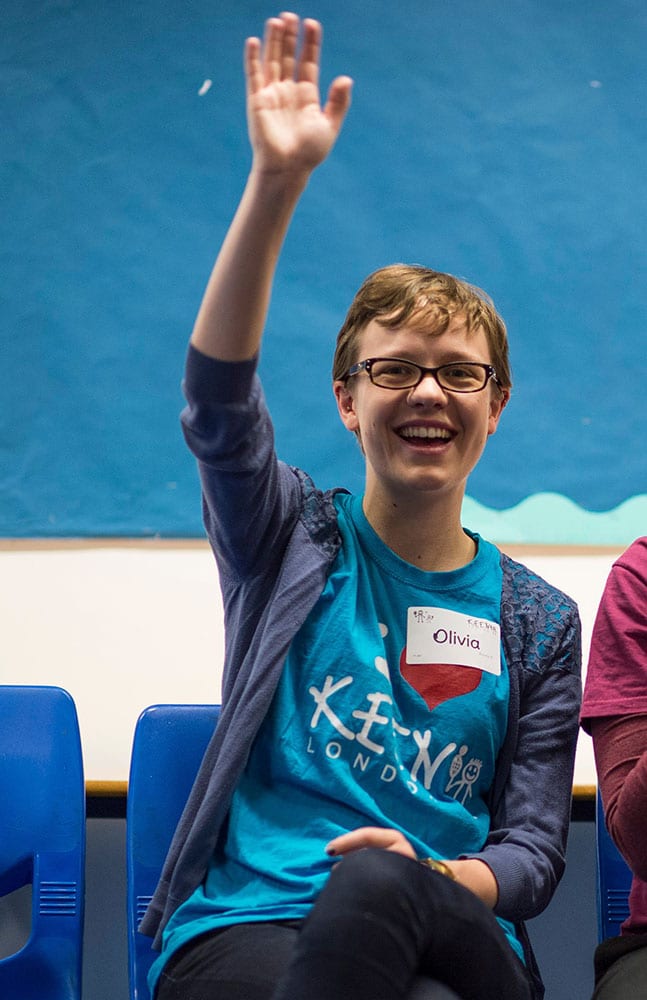 Meet Will, our new South London co-ordinator…
What persuaded you to join KEEN?
Contributing to the invaluable service that KEEN provides for families with children who have additional needs and gaining valuable experience working for a small charity that is doing big things.
What has been the best part of your new job so far?
Getting to know the children who regularly attend KEEN London South and meeting the volunteers, without whom we would not be able to provide such an amazing service.
What are you most looking forward to?
The residentials, I am told they are truly memorable experiences!
What do you enjoy doing when you're not at KEEN?
Riding my bike, there is nothing better than going for long rides in the sunshine with friends and a few pints organized for the finish.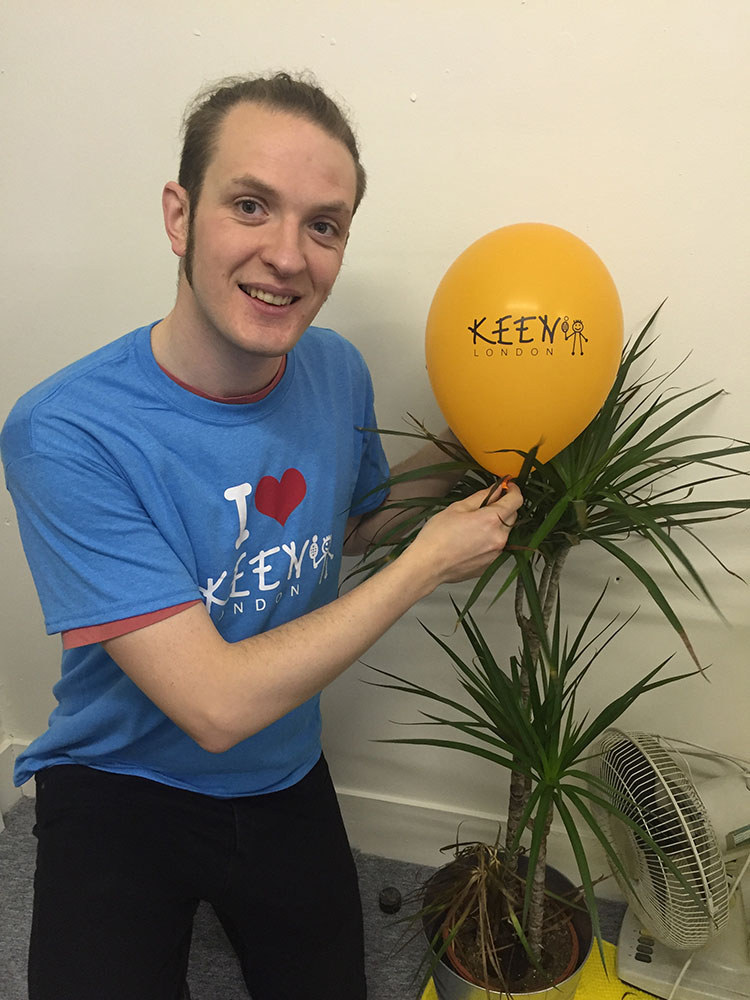 …and Romario, an amazing athlete
Romario has been a regular since we opened our East London site in 2014 and now regularly also comes bowling with Teen KEEN.
What do you enjoy most about KEEN?
When we do cool and interesting stuff, like freerunning, acrobatics and gymnastics.
What's the best thing you've ever done at KEEN?
Tried to amaze Nicole by doing magic tricks.