Coach Apprenticeship Programme
What is CAP?
Our Coach Apprenticeship Programme (CAP) first trialed in 2019 (before being cut short by covid).  Three young people who were ready to take the next step from accessing our service as a beneficiary joined our programme to start supporting our service as a volunteer.
For many of the young people we support, KEEN London is such a huge part of their life that they want to continue being a part of it even when feeling like they have outgrown our sessions. And that is where CAP came from, a beneficiary led idea that addresses the need to remove the barriers to accessing employment or long term volunteering as a young person with additional needs.
What do apprentices do?
Our 24 week programme includes modules on communication, working with additional needs and safeguarding. Each apprentice will be supported in small-group training sessions by a mentor (an existing KEEN London volunteer dedicated to supporting the young people in this project).
In our second term our apprentice coaches will focus on developing the skills learnt in the first term both in sessions and in placement days in other workplace environments.
At the end of the programme our apprentices will be provided with references and supported next steps as well as being welcomed as trained and experienced KEEN London volunteers.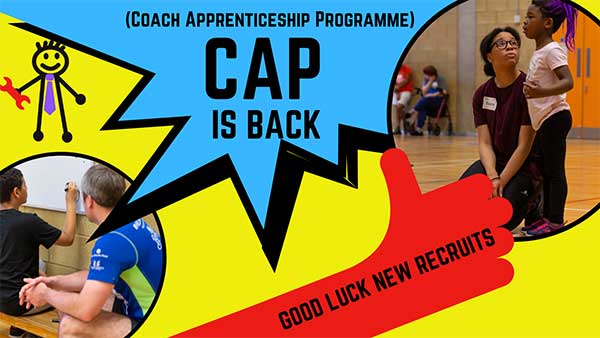 Register interest for our next intake in September 22
Our current apprentices graduate in the summer term and we will be looking to recruit more apprentices for our autumn term in September. To register your interest please contact our CAP project lead China here.
KEEN London is the only charity in London providing one-to-one support at free sports and activity sessions for children with additional needs.
See our athletes at regular sessions, on days out and on residential trips away from home in the KEEN gallery.
Volunteers say…
I've been volunteering for almost two years now. I started doing it because I wanted to use some of my spare time to help people in my local community. I think London can feel so big and impersonal and it's easy to become self-involved — I wanted to avoid that and do something to make life easier for the people around me.

I've never worked with children professionally and my career is not at all child-oriented, so it was all very much outside of my comfort zone when I started. I have learned so much from the kids and become a more rounded person myself, so it's been a great experience.
I think what keeps me coming back is knowing that you really are making a difference to the children's lives even in just a small way, you can see week to week how they start to interact with each other more and become more confident with getting involved with the games because everyone is there as a group encouraging. All the athletes are really lovely too. Plus it's good fun playing all the games anyway, it doesnt feel like volunteering your time!
A very enthusiastic friend who volunteers with KEEN got me involved; and now there's no going back. On Sundays I get to play games I haven't played since my childhood and if it's possible I think I enjoy them even more now! The athletes are great and what's more, I've met some great people who I hope become friends for life.
I got involved with KEEN through the Vodafone world of difference programme and really enjoy the Sunday morning sessions. I find it a rewarding and exciting experience to interact with the enthusiastic and energetic kids while allowing their parents/carers a couple of hours respite. I have also really enjoyed getting to know the other volunteers who, just like me, are still kids at heart.
KEEN London is great place where you can meet superb people and have loads of fun.
KEEN is a fun, friendly and active way to let off steam, both for athletes and coaches. What makes it so successful is the enthusiasm and the familiarity as coaches and athletes develop friendships that grow.
Volunteering for KEEN is a wonderful way to spend your free time. It's a pleasure to get to know and develop the athletes and the sessions and trips are lot of fun. 

It's well-organised and the coordinators provide lots of training and support. You only need to commit to volunteering once a month but most coaches attend a lot more than that, as it's so enjoyable and rewarding. Would definitely recommend to any Londoners looking for volunteering opportunities!